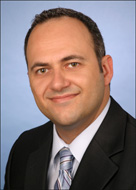 Welcome to my website!
These pages provide information about me and my current projects. In the near future, there will be also a software download section.
Software development was an early passion. I was working as a freelance software developer already during my studies and have maintained many small to medium sized projects. Currently I am working as a software architect at CHECK24 in Munich.
News
March 2014: Check out my new blog!
I planned to do this a long time ago. But I never found the right blog engine. Now I have the feeling I cannot wait any longer, let's just do it with a quite decent blog engine. The first entry is about the obstacles one can get into when using plain Javascript objects as hashtables.